training leaders and preparing them to make disciples
Do you have a theological background and a desire to equip leaders of God's Church to make disciples in their communities and throughout the world? SIM partners with local churches, providing leaders with important tools and empowering them to disciple others effectively. By equipping church leaders with vital educational and spiritual resources, God is using SIM to grow His Church into a dynamic body that thrives even in the hardest places.
flexible options available
In some countries, theological education can be provided in traditional seminaries and Bible schools. Other places require more creative approaches. Through Theological Education by Extension you can bring opportunities to hard places by periodically traveling to rural villages to teach modules, giving access to those without the internet or a nearby seminary. We have short-term (module-based) opportunities, as well as long-term placements available.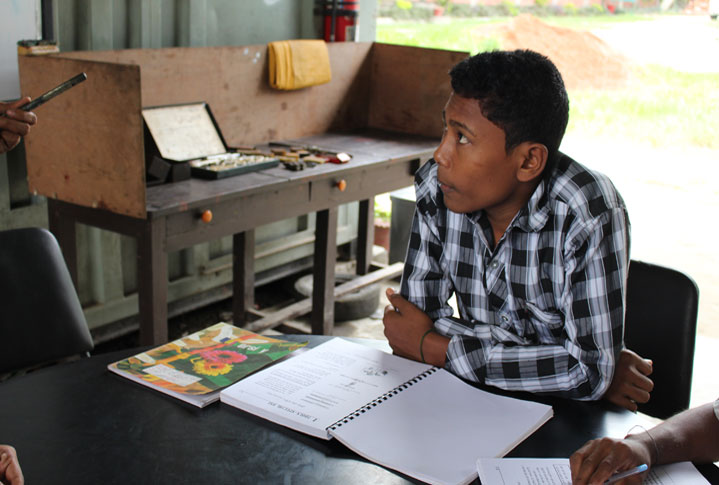 "God is helping me dig into God's Word like I never have before. I finally understand that the important thing is what God says, not what I think or what I want the Bible to say!"
-Bolivian pastor in a SIM pastoral training program
SIM Partner Theological Schools
Angola
Instituto Superior de Teologia Evangelica ne Lubango
Menongue Bible Institute
Benin
The Fon Bible School at Savi
The French Bible Institute in Soudé
Bolivia
Seminario Biblico del Altiplano
Seminario Biblico Evangélico
Burkina Faso
Institut Biblique Evangélique de Ouagadougou
Sahel Missiological Institute
Ethiopia
Evangelical Graduate School of Theology
Evangelical Theological College
Equatorial Guinea
Instituto Biblico "Casa de la Palabra"
India
Presbyterian Theological Seminary
Malawi
Evangelical Bible College of Malawi
Mozambique
Insituto Teologico de Lichinga
Namibia
Evangelical Bible Institute
Namibia Evangelical Theological Seminary
Nigeria
ECWA Theological Seminary
Jos ECWA Theological Seminary
South Sudan
Gideon Theological College
Additional opportunities available in: Angola, Ecuador, India, Indonesia, Niger, Pakistan, Philippines, South Africa, South Sudan, Uruguay, Zimbabwe
Ready to learn more?
Our team is here to help!