When hunger became her household's everyday norm, Jemma didn't think life could be lived any other way. It was "just reality" for her, her husband and their seven children.
Their youngest, at seven months old, weighed only six pounds. Little Ben was malnourished, and his future looked bleak.
"There was nothing we could do," Jemma says.
With so many children, the activity under their thatched straw roof was constant—and loud. So much so that she almost missed the knock on their door that saved Ben's life…and led to healing for her entire family.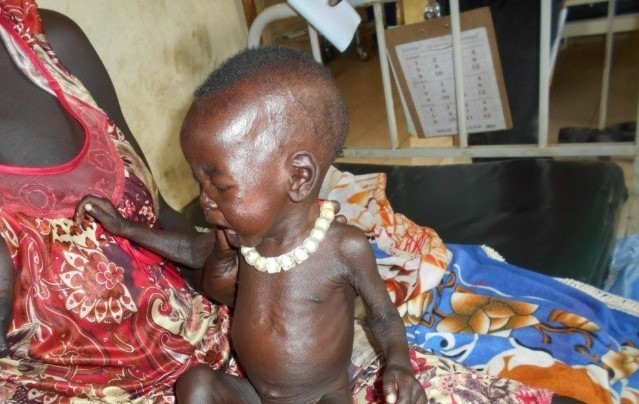 Nancy knocks
Nancy, a nutrition assistant on staff with SIM at Nutrition Village in Doro, South Sudan, came to Jemma's hut as a part of her regular rotation through the Doro community.
"I love my job," she says. "Because I get to help people. When I find children suffering from malnourishment, I can offer hope and show the way to healing."
Nancy's heart nearly burst with compassion when she first saw baby Ben, and she offered Jemma a way to get him to the nearest hospital. Immediately.
"My tears fell out"
With malnutrition threatening to take his young life, Ben was given emergency nourishment through the hospital. Within two weeks he gained four and a half pounds. He was released to Grieve Memorial Clinic, known as the SIM Doro Clinic, where the staff specializes in care for children suffering from severe acute malnutrition.
Nancy worked with Jemma to ensure she would bring her baby back to the clinic every week to receive high calorie food substitutes. And within just one month he weighed in at 13 pounds. Jemma says,
"Holding him and seeing such change, my tears fell out."
Curious and thankful
The Doro Clinic has a reputation in the community for sharing "words of truth." The three chaplains are always telling patients and other visitors about Jesus' love, and their words cause many to hunger for more. Jemma and her husband are two such people.
Not yet ready to commit to Him, they continue asking questions and smile as they learn.
The gospel is in action; the healing didn't stop with Ben. SIM also provided Jemma with sorghum every week to help feed the rest of the family and restore them physically. With every food delivery, Jemma's tears shine and she says,
"Thank you. Thank you so much."
Please join us in prayer:
Pray for families like Jemma's who live in the grip of hunger, fighting for survival and searching for the hope of the gospel.
Pray for the 36 SIM staff members at the Doro Clinic, that God will encourage and equip them as they tend to 100-150 patients daily.
Pray that God will provide more healthcare workers as the need is great—"The harvest is plentiful, but the workers are few." (Luke 10:2).