"Faida, Mama [Goodbye, Mom]," 11-year-old Kaweria Otieno says as she kisses her mother's cheek. It's time to leave for school.
Walking nearly two and a half miles to reach the school grounds in Kenya is nothing new to Kaweria. She doesn't mind it.
It's the additional walk from school that weighs heavily on her.
It's not that far, only half a mile more, but it takes away from time in the classroom. And Kaweria loves to learn.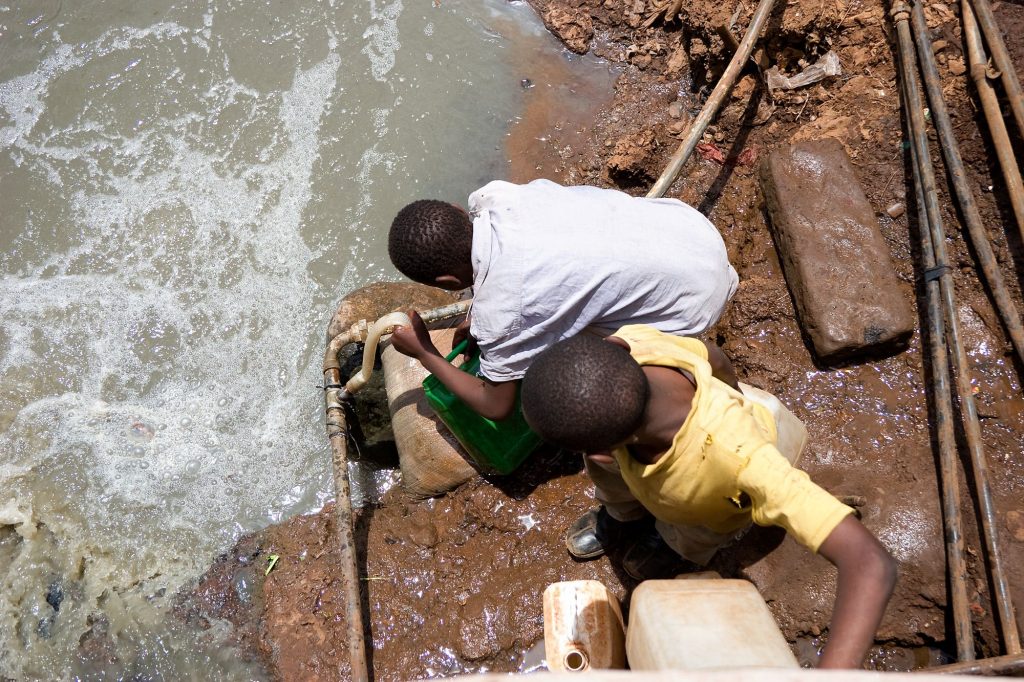 Tapped for water
When the water tank and kiosk supplying tap water to the school's 550 children and 50 staff failed eight months ago, school administrators were in a bind. They had to assign new responsibilities to everyone, children included.
Kaweria was chosen as one of several girls to collect and haul water from the nearby stream, which is anything but sanitary. They used jerry cans, yellow plastic containers that once held cooking oil.
"I'd always try to fill mine," she says. "But it would be too heavy."
When full, a can holds 5 gallons of water and weighs 40 pounds. Too much for an 11-year-old.
Clean water is essential
Water kiosks and tanks are used in Kenya to supply villages, schools and other populous areas with treated water fit for everyday use.
When Yoonseo, SIM's water project manager in Kenya, became aware of the school's damaged water kiosk and tank, he moved as quickly as possible.
"No one should be removed from the classroom to perform chores," he says.
"Access to clean water is essential not only where families live, but in schools. Children and staff spend much of their day here, and they must eat, drink and cleanse after relieving themselves."
Free to learn again
Today, Kaweria is free from the heavy responsibility of hauling water for her classmates and teachers. SIM replaced the water tank and kiosk, making clean water accessible to the school once again.
"I get more time again with Bi Durah," Kaweria says about her teacher, a shy smile taking over her face. "I like how she teaches numbers."
Please join us in prayer:
Pray for students like Kaweria to have access to clean water.
Pray for the SIM Kenya water project manager, Yoonseo, as he oversees efforts to make water accessible to nearly 14,000 people in 15 villages.
Pray that God will provide more field workers to meet the great need for health and healing (physical and spiritual)—"The harvest is plentiful, but the workers are few" (Luke 10:2).
*Names and photos may have been changed for the sake of privacy and safety of our workers, ministry partners and those we serve.