In immense pain, James entered the Ebola survivor clinic at SIM's ELWA Hospital in Liberia.
The Ebola virus had left James' body months before, but he couldn't ignore the side effects any longer. His right eye was entirely clouded and the pain in his joints meant he could barely walk to the examination room.
His symptoms are common for Ebola survivors: vision issues, joint and muscle pains, abdominal discomfort, and fatigue. The patients have survived, but their bodies are severely debilitated. Many have lost their jobs and families.
James survives Ebola only to face a hopeless future
James' story of deep emotional turmoil after recovering from Ebola is familiar. His wife left him, afraid he was still somehow contagious. Unable to work, James had no place to live and little food.
He looked to ELWA Hospital in Monrovia, Liberia for help.
SIM missionary Dr. John Fankhauser has seen all stages of the Ebola epidemic. He was among a small group of medical personnel who first began treating Ebola patients in Liberia, in 2014.
"Many of these survivors are dealing with emotional and spiritual impacts that are unique to this kind of disease," shared John, who serves in our ELWA Hospital in Liberia. "They're exposed to stigma in their communities, loss of livelihoods and things we don't see with other illnesses."
A ministry of compassion
At the first consultation, John shakes the hand of every Ebola survivor and talks with them. He tells them he is thankful they survived. James, in a deep depression, was not impressed with this introduction.
"James asked me, 'What is there to be thankful for?'
"He told me he lost his home, his wife, his family. I sat with him for almost an hour," John said. "I told him if he stays here with us and allows us to care for him for the next few months, he would see that we do care."
The Ebola survivors' clinic is born
When the steady stream of Ebola survivors became too much for ELWA Hospital's regular facilities, John launched Liberia's first Ebola survivor clinic with support from SIM and the Ministry of Health.
John and fellow medical personnel were in uncharted waters. No clinic in the world had treated Ebola survivors on this scale.
Recognizing the strategic need, SIM funded several teams of medical specialists to train local and international medical personnel at ELWA Hospital.
"Many patients who walk through our doors have found hope in the epidemic's end and a new faith in God, but others are still grieving and waiting for healing." shared John.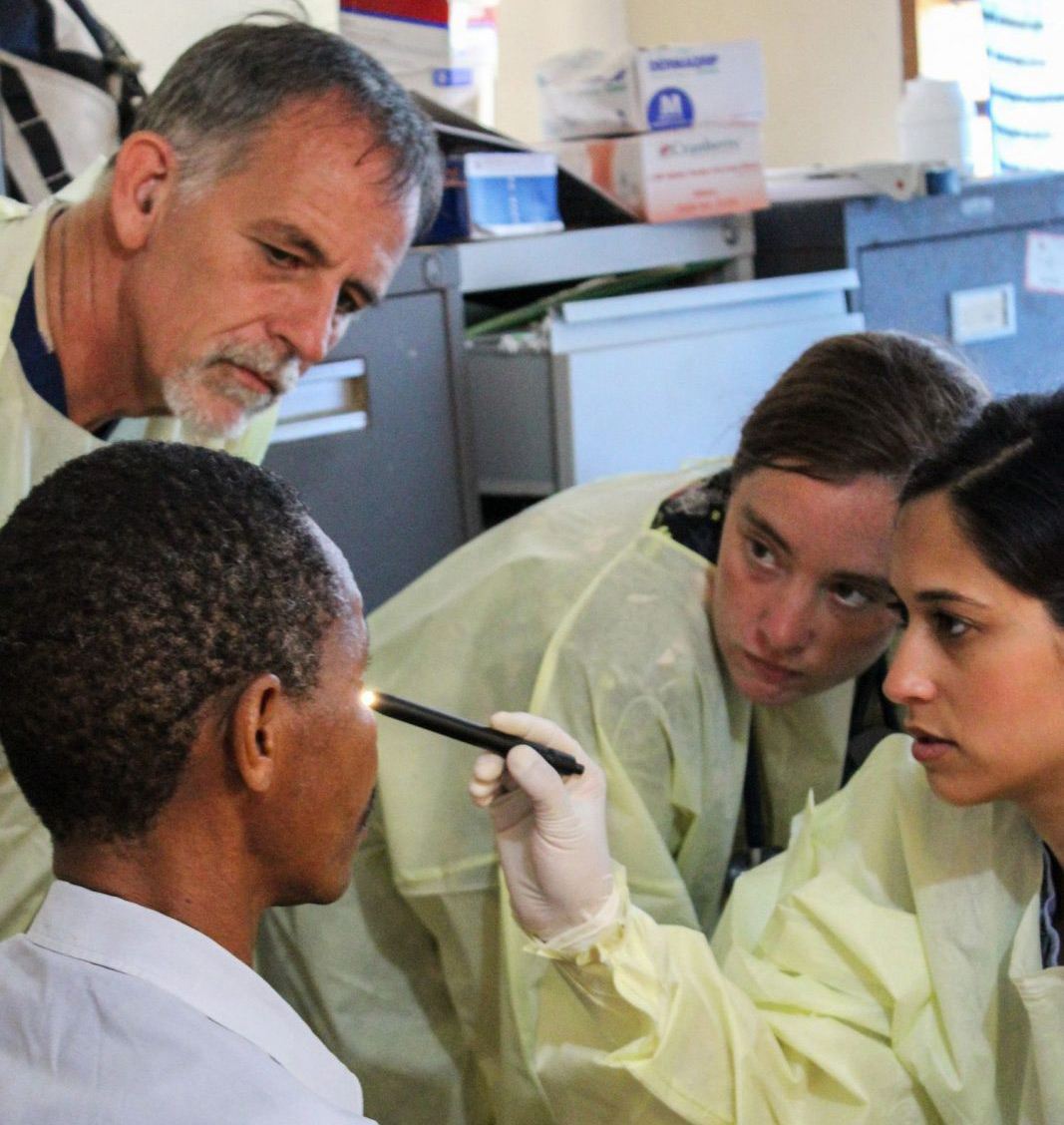 Dr. John Fankhauser examines an Ebola surivivor's ankle at ELWA Hospital. Survivors' symptoms can include debilitating joint pain. Dr. Fankhauser treated patients throughout the Ebola epidemic and now helps scores of survivors find relief for their Ebola complications – Photo by Bethany Fankhauser.
Healing for the body and spirit in the aftermath of Ebola
The story of Ebola survivors is one of physical turmoil and emotional trauma. To address this reality, ELWA Hospital patients are offered a free, six-week trauma healing session, led by trained personnel from the Evangelical Church of Liberia (ECOL) and SIM.
"We are here to partner with other believers in Liberia who sincerely love the people around them," John said.
"One of the wonderful things we have to offer is Christian counseling and trauma healing. There are many who are looking to make sense of the horrific things they have endured, and our faith speaks to that."
SIM's desire is that these sessions would help hurting and grieving people to connect with the Scriptures and the healing power of the cross.
Hope and a future for James
Today, James still receives treatment at ELWA Hospital. Ebola permanently affected his body and medications help manage his pain, but his outlook is dramatically brighter on the day he first arrived at the clinic.
Thanks to SIM's in-country partners, James was given a place to live and food to eat. Through regular counseling he has found healing and hope, and is communicating with his wife and family again. His turnaround has been dramatic. Today, he advocates for Ebola survivors and helps others find the healing he has found.
"Many patients who walk through our doors have found hope in the epidemic's end and a new faith in God, but others are still grieving and waiting for healing."
Nowadays, he also thanks God that he survived Ebola and continues to learn of God's great love for Him.
Please join us in prayer:
Pray for James and others who have lost loved ones or are recovering from the deadly Ebola virus in Liberia.
Pray for SIM's medical and healthcare workers whom God has called to serve in places like Liberia.
Pray for the funds needed for critical projects and programs like the Ebola survivor clinic in SIM's ELWA Hospital in Liberia.
*Names and photos may have been changed for the sake of privacy and the safety of our missionaries, ministry partners and those we serve.